Whether you have a small or big business, having a copier leasing in Boston is essential to the company. A copier lease Boston helps the business grow, and it also helps the employees do their job efficiently. It can be our greatest partner at work, but it can also be the reason for our frustration. Keeping it in good condition is the key to having a peaceful day at work. Knowing how to troubleshoot and properly maintain it is a way to keep the copier running smoothly for a long time.
You may not believe it, but there are some simple ways to keep your copier running smoothly. We collected ten things to do to keep your copier running smoothly to avoid the hassle. Follow our tips, and who knows, your boss or coworkers will praise you for doing a great job. Yes, that's how vital the copier is to everyone in the business.
10 Things to Do to Keep Your Copier Running Smoothly
01 TRAIN YOUR STAFF/COWORKERS
Many people disregard this suggestion, but it's the most vital part of having a copier. It is highly recommended to teach your staff or coworkers not just to operate it but also to troubleshoot it. Everyone in the office should know how to troubleshoot and maintain the copier to run smoothly. A little teamwork is all you need.
02 TURN IT OFF
Always make it a habit to turn it off before leaving the office, especially during weekends. This can help the company save electricity, giving the copier enough rest to become functional again the next day. Yes, just like us, even the copier needs a rest.
03 MAKE READING A HABIT
This might sound a bit obvious but always make reading the manual a habit. By doing this, you will know to use it properly, avoiding any mishaps during your workday.
04 REMOVE ANYTHING THAT CREATES STATIC ELECTRICITY
Static electricity can damage your copier's operating system. Remove anything that can create static electricity near your copier to avoid this from happening. A simple way to do this is by placing a rubber mat in front of the copier.
05 CLEAN THE GLASS AND SURFACES
Cleaning your copier's glass and other surfaces should be done every after use. Wipe it with a soft dry towel after operating it to avoid dust build-up. Not doing this can lead to a more significant problem with your copier.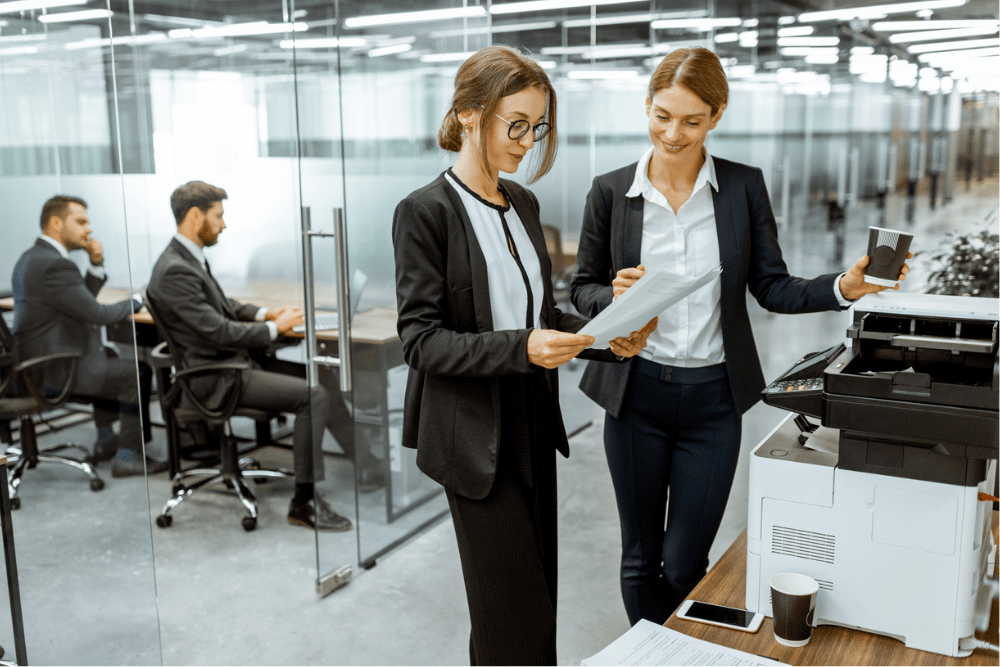 06 ALWAYS CHECK THE INK AND TONER
Every time you use the copier, make it a habit to check on the ink and toner cartridge. If you see the warning "low toner" sign, immediately replace it with a new one. Don't dry it up.
07 NEVER DRINK OR EAT NEAR THE COPIER
Food and drink spills can cause paper jams, so make sure not to drink or eat near the copier.
08 USE THE RIGHT PAPER
One common problem with copiers is not using the right paper. Some copiers require a specific paper; make sure you're using the right one for your copier.
09 KEEP THE PAPER ORGANIZED
To avoid paper jams, make sure that the paper on the paper trays is appropriately aligned before operating the copier.
10 BE ALERT
Be alert when you notice any difference in your copier, either printing quality or unusual sound. This may cause a bigger problem if ignored.
The whole company can avoid worrying if they know how to maintain the copier properly. There's no need to panic when it breaks down as long as you know how to fix it. Follow our suggestions to keep your copier running smoothly and avoid delays in your work. Maintaining it is easy if you know the drill.
If you plan to get copiers for your office in Boston, you can opt to buy copiers or lease copiers in Boston. We can give you the option to get the copier that you want. You can contact our local copier leasing services department in your location.
If your Location is around Boston, you may call us at (617) 221-7774, our personnel for copier leasing in Boston will assist you. If you are also looking for copier repair services in Boston, you may contact our copier repair personnel at the same number.