Toshiba Corporation is a major Japanese manufacturer of consumer and business computers, including other electronic devices such as hard disks and flash drives. Tokyo serves as its main headquarters.
Is Toshiba a Japanese brand?
Yes! Tokyo Shibaura Electric Company, Ltd. was the name used when the company was founded in 1939. However, in 1978, it changed its name to Tokyo Shibaura Denki KK due to the merger of Tokyo Electric Company, Ltd. and Shibaura Engineering Works, Ltd.
In the middle of the 1890s, it started making machine tools. Mitsui provided financing for the Tokyo Electric Light Company, which began producing electric lightbulbs made of bamboo filament in 1890. But how were they in terms of office supply today? Read more.
Is Toshiba worth buying?
Toshiba is equipped with security like SecureMFP strategy that considers your environment holistically, including products, processes, and people. Toshiba protects essential areas for product safety: documents, access, and the cloud. To comprehend and maximize security within your environment, they combine this with security assessments and services.
Toshiba copiers offer all possible printing solutions. They are wholly committed to making high-quality printers and increasing the productivity of any business using their products.
They are responsible for developing over 500 powerful technologies that are now extremely important to numerous businesses. Toshiba is dedicated to giving businesses of all sizes more power.
Toshiba printers, both purchased and rented, have gained considerable popularity in America and Asia.
The energy required to keep the machine running is costly now with the rise of energy costs in the global market. Toshiba knows, so they made sure you buy an affordable printer. This is the first step in cutting costs.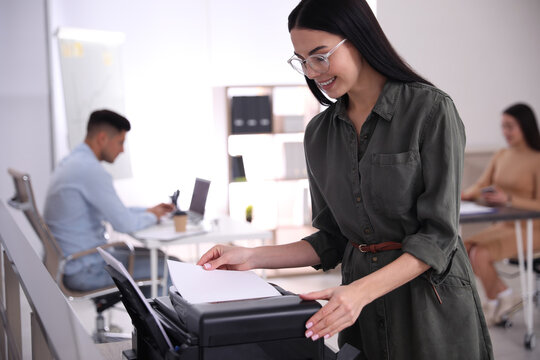 What's Toshiba's Expertise?
As mentioned, Toshiba is an expert at making multifunctional printers that save money and space in the office. When a Toshiba copier is installed in an office, it can provide customers with precise color and black-and-white printers, providing you with your ideal printing needs or solution.
Most of the time, the best printers have multiple functions. Not only do they permit your staff to print those crucial documents, but they also can fax and scan them. Overall, these systems are great for saving money and office space.
The ease of use and low energy consumption of each Toshiba printer make them ideal for the workplace and the environment. Their Label Printers are super tiny. However, it is dependable and suitable for printing custom labels, tags, and receipts.
They are also inexpensive to operate and require little maintenance, making them suitable for a bustling office with only a few technical persons, such as the school.
On the other hand, their desktop printers are essential for any office because they are practical and dependable. They will only take up a little space in your office and will always increase productivity if kept in good condition.
They also have printers with wide format. This system is excellent for big ideas because of its wide-format output and ability to print large quantities! This suits architects and engineers, especially with their plater or blueprints.
Toshiba promises to help you save money, keep your documents safe, and leave less of an impact on the environment. They are sincere and straightforward in commitment to providing the quality you expect, that's actually proved by their Toshiba Quality Commitment warranty.
In addition to promoting eco-friendly business practices, Toshiba only selects suppliers or companies they would work with based on their commitment to producing materials that contribute to ecological harmony.
Final Say
Toshiba has a solution for you, whether you want to rent a printer or buy a copier. In addition to assisting you in making your decision, they can provide necessary maintenance or similar services. Get Toshiba now!
If you plan to get copiers for your office in Boston, you can buy or lease copiers in Boston. We can give you the option to get the copier that you want. You can contact our local copier leasing services department in your location.
If your Location is around Boston, you may call us at (617) 221-7774, our personnel for copier leasing in Boston will assist you. If you are also looking for copier repair services in Boston, you may contact our copier repair personnel at the same number.